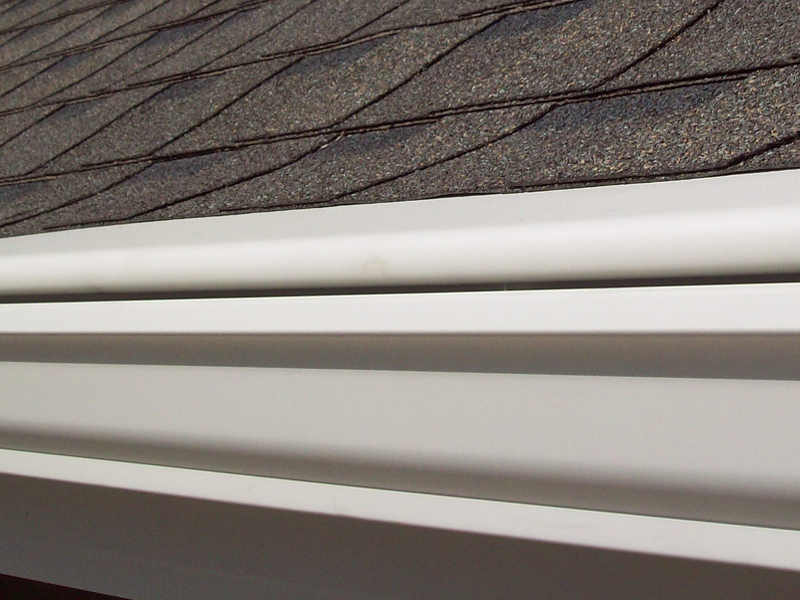 Rain gutters provide an important function for protecting your home from water damage. Once you have made the decision to have gutters installed on your St Paul, MN Residence or Commercial building, its time to decide which type of gutters to choose. Seamless Gutters offer superior protection from rain, ice and snow. Minnesota Leafless Gutters are made using the Highest Gauge Metals in the industry. Many Minnesota residents choose Aluminum Gutters for their value, color selection and affordable price.
Cost of Faulty or Missing Gutters
Having faulty or missing gutters can cost you in inconvenience and damage to your property. St. Paul's harsh weather demands that your structure be protected with a very Durable and Strong gutter material. Traditional gutters have seams and gaps that weaken the strength of the gutter.
When water leaks through seams where gutter lengths connect they can become victim to the freeze-thaw cycle where liquid freezes and expands, then melts through the gap. The process is similar to the way potholes form on Minnesota roadways. Soon you are left with leaky, faulty gutters that no longer provide adequate protection from water damages.
Why Choose Seamless Aluminum Gutters?
Quality Seamless Gutters are available in a variety of materials including Aluminum, Galvanized Steel and Copper Gutters. Every gutter style and material provided by Minnesota Leafless Gutters is backed by our outstanding warranty. Professional Gutter Installation ensures that you get the highest level of protection and a custom fit.
Aluminum Gutter Systems are the most popular for a number of reasons including the following:
Lower cost than other gutter materials
Durable enough to withstand MN weather conditions
Easy to work with to match architectural style
Will NOT rust over time like steel gutters
Nice looking to enhance the look of residential or commercial buildings
Wide range of colors available
Lightweight gutter materials
Can be painted if preferred to change the look
Available in different sizes, styles and profiles
Aluminum Gutter Residential and Commercial Installation
Minnesota Leafless Gutters are custom fabricated onsite. Our Seamless Gutters are made of High Quality Materials including the very popular Aluminum Gutter Systems. Our expert services include gutter system planning, designing, professional installation and an Outstanding Warranty. Our custom fit gutters are fabricated using the thickest gauge gutter materials in the industry. They are extremely durable and able to handle years and years of St Paul, MN winters with all of the ice and snow.
For a Free Estimate Call: 612-221-0362. OR Email: Tim@mnleaflessgutters.com