Beautiful Copper Gutter Systems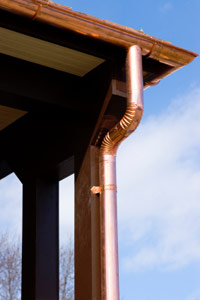 Seamless Copper Rain gutters are an outstanding addition to St Paul homes. They provide a stately appearance and a Customized Look. It is hard to imagine that something as beautiful as a Copper Gutter System is such a workhorse. Copper is one of the Strongest and Most Durable Gutter Materials on the market. When expertly installed by the pros at Minnesota Leafless Gutters, the results can be above expectation in Beauty, Durability and Protection.
Countless Satisfied Gutter Installation Customers
When choosing which gutter material is best suited for your homes architectural style, location, pitch of the roof and property, you can rely on the experts at Minnesota Leafless Gutters to assist you in any way. With many years in the Seamless Gutter Business and countless satisfied customers, we have the knowledge, skills and equipment to provide you with outstanding gutters no matter which Gutter Material you choose.
Why Choose Seamless Copper Gutters?
Top Quality Copper Rain Gutters from Minnesota Seamless Gutters can be professionally installed for a perfect fit. We custom fabricate Seamless Rain Gutters and Downspouts that will last for many years without much maintenance. Copper rain gutters are some of the most desired because of their unbeatable performance and beauty.
Copper Rain Gutter Systems are known for their many great attributes:
Copper Gutters are Very Durable
Never Rusts or needs painting
Copper Rain Gutters are made of one of the Strongest Gutter Materials
Very Customized look that is aesthetically pleasing
Beautiful Copper Patina as they age
High-End Gutter Systems may add to the home's value
Longest Lasting rain gutter results
Seamless Gutter Integration
Provides Instant Curb Appeal
Half Round or K-Style copper gutters in variety of sizes
Most Elegant and Prestigious gutter material
Enhances Ornate Architectural styles beautifully
Available with coordinating Copper Gutter Covers that keep out leaves, birds, rodents and debris
Customized Copper Rain Gutter Installation
Contact the pros at Minnesota Leafless Gutters when you want the Very Best Protection for your home. We do not just offer rain gutters we provide long lasting, durable, beautiful, custom gutter systems Installed by Experts. Our Seamless Copper Rain Gutters provide outstanding performance that handles St Paul, MN extreme weather with class. They will age with a beautiful copper patina that you cannot get from other gutter materials.
For a Free Estimate on the Strongest and Most Durable Gutter Systems – St Paul residents can call: 612-221-0362. OR Email: Tim@mnleaflessgutters.com