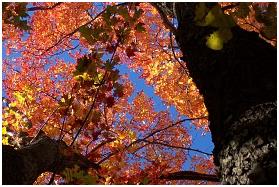 Fall is on the way – the air is getting crisp, the leaves will start changing and it is a great time for some projects around the outside of your home. Fall is a great time to check your gutters for debris including leaves that can block your gutters and keep them from doing their job of helping water flow appropriately. Without functioning gutters, you can have a wide range of problems around your home including foundation erosion, and water pooling in undesirable areas on your property and in low lying areas of your home (basements). Fall is also a great time to think about gutter repair and/or replacement. If you live in the Minnesota area, look no further than Minnesota Leafless Gutters to take all of the gutter work off of your shoulders and get the gutter system in your home working the way it should!
Save yourself Time and Energy This Fall
Cleaning your gutters is no fun. You have to stand on a ladder, and pull out leaves and other debris that gets clogged up. These tasks can be taxing and difficult and without proper equipment, you may not even be able to clean them thoroughly. Minnesota Leafless Gutters of has been serving customers in the St. Paul, MN and surrounding area for more than 17 years. Our experienced team has a track record of success and satisfied customers. Seamless gutter systems mitigate water problems from the roof to the foundation by directing water away from your building. We offer many different gutter styles and types including:
Seamless Gutter Systems
Copper Rain Gutters
Steel Rain Gutters
Half-Round Style Gutters
K-Style Gutters
Our gutter specialists can come to your home, inspect your current gutter system and advise you on how best to protect your home. We guarantee fair prices, a wide range of selection, a careful installation customized to your unique needs, and high quality customer service.
Minnesota Leafless Gutters: Affordable Prices and Strong Customer Service
So, don't spend your fall up on a ladder trying to get the debris out of your current gutters. Let Minnesota Leafless Gutters help you with this process this year, so that you can be confident that your home is protected from potential water damage. Our team offers free estimates and many customer testimonials on our website if you have questions or want to hear from local customers we have worked with. We can be reached at 1-612-221-0362 to schedule a time for our crew to come to your home!