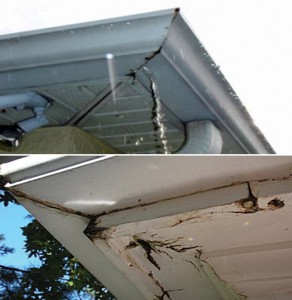 Are your gutters poorly performing? Have you been too lazy to get up on the ladder this fall to fix the damage on your gutters? Putting this project off through the winter could turn into a much more costly expense than what you are dealing with now. Anytime your gutters need repair, we recommend you contact the professionals to assist you rather than trying to do this dangerous home improvement project on your own. If you live in St. Paul, MN you can count on Minnesota Leafless Gutters to handle your gutter repair needs before the winter months hit!
Reasons to Repair Before Winter
Prevent Ice Dams – When it comes to gutters, the biggest issue during the winter months are when ice dams form. If your gutters are backed up and not allowing water to flow properly, the excess water in your gutters may freeze at the edge of the roof. This added pressure on your gutters can cause significant damage and may even create leaks.
Keep the Foundation Protected – A faulty gutter system that causes water to overflow is never good for your home because standing water may develop around the foundation of your home. By repairing your gutters before the winter, you will be able to rest assured that your foundation will remain protected no matter how much snow and ice is headed our way.
Keeps things Clean and Pest Free – Build up of leaves and debris in your gutters attracts bugs, spiders and other pests that you do not want hanging around your residence. Consider having our staff clean out your gutters and install gutter covers that will keep leaves and debris out moving forward.
Satisfied Customers are Our Number One Priority
Everyone wins when customers are happy and satisfied after a home repair project is complete. To help ensure that our clients are pleased throughout the entire gutter repair process, we first start with a free gutter inspection to help examine what may be going on. Once the repairs are determined, our team would offer fair pricing on any repairs needed. Thanks to our high quality gutter repair products offered, you will have the ability to choose from a wide range of options, styles and colors that can be customized to fit your needs.
Take advantage of this fall weather and let Minnesota Leafless Gutters handle your gutter repair needs before the winter months hit. Our staff can ensure that your gutters get back to full function before winter so that ice dams, faulty foundation and unwanted pests are not on the horizon at your house! If you live in the Minneapolis or St. Paul, MN area, give us a call today at (612) 221-0362 to set up a free inspection of your damaged gutters.