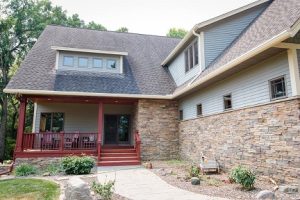 Many of us do not think much about our gutter system. Our gutters blend into the outside of our house, and we assume that they are doing what they need to do on a daily basis. We may generally know that they help push water away from our house during rain and storms, but, beyond that, do you ever think about how long they have been a part of your home? Or, whether they are working as they should? You may think about your gutters once or twice a year when you dread having to climb up on the ladder and clean them out. Or maybe you think about your gutter system when you get a flier in your mailbox with a service offering to clean them. Most standard gutter systems are only built to last about 10 years and, in that time, may need to be cleaned 4-5 times a year to function correctly. If not properly maintained, your standard gutter system can easily become damaged. When this happens, water can damage your siding and even your foundation.
Maintenance Free Gutter System Installation In St Paul
Minnesota Leafless Gutters is a St. Paul gutter replacement contractor that can install new gutters for your home that you will never have to think about! The gutters that we install do not let dirt and debris in, so they are truly maintenance free. No need to climb your ladder and reach inside to remove the "stuff" inside. Leafless gutters are a huge upgrade to the standard gutters systems that are generally installed on a new home. No one tells you when you move in that your standard gutters may begin to fail or be unable to do their job in a few years and may cause costly damage to your property. The gutter systems that we install are different.
Protect Your Home With A Leafless Gutter System
Minnesota Leafless Gutters will install gutters systems to your St Paul Home, made of copper, aluminum or steel and can be matched to blend in well with your home's exterior. These gutters come in over 100 colors and do not allow leaves and other debris inside. So, you do not have to worry about these gutters getting clogged. They will push water away from your home's siding and foundation and last for many years. Our contractors are highly skilled and experienced and will install your new gutter system with great care. Do not ignore your gutter system for another season – reach out to the team at Minnesota Leafless Gutters at 612-221-0362 for information on how you can protect your home.