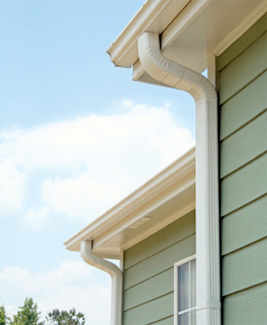 When you look at your home, you see so many things — the front yard where your kids play, the place where family gathers for holidays and where you are able to relax and unwind after a long week. Your home provides shelter, comfort and is a special place for you and your family. Periodically, as with all homes, things need to be repaired in order to keep the house in good working order. Your exterior gutters are a functional necessity on your home, keeping rainwater away from your home. This is a very important function, and without functioning gutters, the structure of your home can succumb to water damage, and even structural problems. Minnesota Leafless Gutters serves the St Paul, MN area and can help you with all types of gutter repair and replacement.
Minnesota Leafless Gutters Service Pledge
Minnesota winters are especially hard on a gutter system which makes fall a great time of year to have your gutters inspected, repaired or have them replaced if needed. Once the winter months set in and the snow starts piling up, the roof and gutters of your home must work extra hard to keep the water moving away from your home. The team at Minnesota Leafless Gutters can come to your home in the coming weeks and make sure that your gutters are functioning properly. We offer the following guarantee to all of our customers:
Free gutter inspection, thorough and clear report which details any potential vulnerable areas or problem spots.
Fair, competitive pricing and invoices that are clear so that you know exactly what you are paying for.
Wide variety of gutter finishes, colors and metal types – Minnesota Leafless Gutters has the widest selection in the area.
We will customize your gutter system to fit your home using state of the art industrial metal fabricating equipment.
Our team is experienced and we provide careful and customized installation keeping up with the highest industry standards.
Our crew is always professional, courteous and timely. We will finish our work on time and make sure to leave your home and yard looking clean (as clean or cleaner) than before.
Now Is A Great Time To Call
If you live in the St Paul area, now is a great time to call Minnesota Leafless Gutters at 1-612-221-0362 for a free, no risk consultation. With an A+ rating from the Better Business Bureau, you can be confident that you will receive excellent service and quality work during every job we take on!