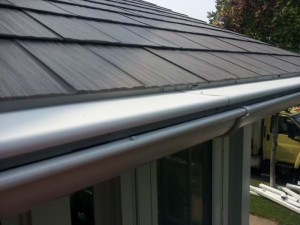 We have all heard the infamous saying, "April showers bring May flowers!" Spring is right around the corner and it's time to start thinking about the best way to prepare for all of those St. Paul, MN spring showers! One of the best ways to protect your home and property during any rain storm is to make sure your gutters are working properly. At Minnesota Leafless Gutters, we are here to help with all of your gutter needs! We offer free inspection and consultation for gutter installation, gutter repairs, and gutter replacement. No job is too big or small for us!
Rain Gutters Make A Difference!
Often times, homeowners tend to dismiss gutters as an obscure part of the home. However, gutters make an enormous difference to the overall welfare of the home, especially living in harsh climate conditions like St. Paul, MN. Gutters protect your home from decay, rot, and structural compromise. Without quality gutters, homeowners may find themselves dealing with erosion problems, wet basements, pooled water around the home, and in severe cases, structural damage to the actual foundation of the home. Fortunately, Minnesota Leafless Gutters is here to help. Our gutter installation crew works diligently in fitting the right gutters for your home. We offer a variety of styles, sizes, and colors that will undoubtedly compliment your home's color and personality.
Expert Gutter Installation Crew St Paul
Our experts can advise homeowners on products, materials, and application that are best for your home. Our expert technicians should be aware of any problem areas that need solutions. Simple gutter repairs or gutter replacement projects can save lots of money in the long run! To make this a quick and easy process, our experts offer free inspection and consultation for anyone looking for gutter installation, gutter repairs, or gutter replacement.
Gutter Installation
To ensure the safety of our homeowners and our crew, we have a licensed and insured professional roofing contractor that does a thorough inspection of your home. We also provide a lifetime transferable warranty for labor and materials. We are confident that our skilled craftsmen take pride in the gutter installation process and provide you with gutters that are built to last!
So if you live in St. Paul, MN and are in the market for new gutters or in need of gutter repairs, call Minnesota Leafless Gutters today for a free inspection and consultation! We can be reached today at 612-221-0362.