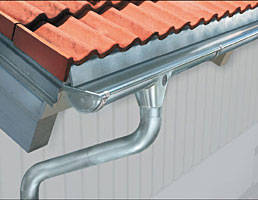 Living in Woodbury or St. Paul, MN means that snow and ice accumulation is a normal part of life during the winter months. Not all areas of the country have as much accumulation throughout the year as this region. So, the question for homeowners is whether or not your home can hold up against these types of conditions. Well, when it comes to your home's gutter system, our team at Minnesota Leafless Gutters offers extremely durable steel gutter installation. Although snow and ice provides some picturesque views, it can also cause serious damage to your gutter system if it is weak. As a steel gutter installation company in St. Paul & Woodbury, MN, Minnesota Leafless Gutters is here to help ensure that your gutters are the least of your worries when it comes to your home.
The Total Steel Gutter Package
Customer service is a top priority for our team at Minnesota Leafless Gutters. To ensure that every client of ours has a positive experience with their steel gutter installation, we offer the total package. To start things off, we provide a complimentary gutter inspection to evaluate the current state of your gutter system. If gutter replacement is needed, quickly you'll find that our steel gutter install is very affordable. Our steel gutter installs are not the same for every home. Instead, our gutter installers will custom fit your new steel gutters to your home so that they fit perfectly. When it comes to materials, the steel we use for your gutters is the strongest on the market. Our steel gutter installers have more than 17 years of experience handling gutters of all styles. The final aspect of our total steel gutter package is that your install project will be completed on time and a whole new look will be brought to your home.
Perks of Steel Gutters
As all members of the St. Paul and Woodbury, MN community know, this area gets a lot of precipitation throughout the year. Overtime, this can take a toll on the health of your gutters. To hold up against these types of conditions, steel gutters are an ideal option for your new gutters. As snow and ice accumulate, more weight is added to your gutters. Steel gutters can handle a much heavier weight than other types of gutters.
If you aren't sure how well your existing gutters will do once snow and ice hits the Woodbury & St. Paul, MN area, it may be time for you to call the gutter professionals. As a steel gutter installer, our team at Minnesota Leafless Gutters is eager to provide you with affordable and long lasting steel gutter options for your home. To request a free estimate today, give us a call at (612) 221-0362 or email mnleaflessgutters@gmail.com.