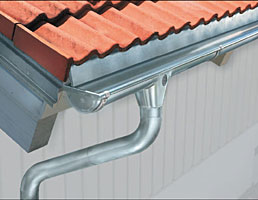 The warmer months are always a good time to check to see how well your gutters have held up over the years. Homeowners often neglect their gutters, especially in cold climates like Minnesota. If you see that your gutters are sagging or aren't catching water properly its likely time to call in a St Paul professional gutter contractor like Minnesota Leafless Gutters. When it comes to gutters you have several options in terms of the gutter material. The most common choices for gutters in the Twin Cities area include copper, aluminum and steel. In this blog we're going to go through some of the advantages and disadvantages of choosing steel gutters for your home.
Advantages of Steel Gutters and Downspouts
When comparing the same gauge thickness, steel gutters and downspouts are much stronger than aluminum and contract half as much. Steel gutters and downspouts are a great choice in northern climates like Minnesota because they are able to handle a much heavier load than aluminum. Steel gutters are typically found in galvanized or enamel finishes in a variety of different colors. When properly maintained homeowners can expect steel gutters to last around 15 years.
Disadvantages of Steel Gutters and Downspouts
While steel gutters come in a variety of colors, they're prone to rust and should be always factory coated or painted. Even galvanized steel gutters will eventually rust over time. Homeowners should avoid painting galvanized gutters in the field, because they are typically not cleaned and primed properly, which can result in peeling and flaking.
Other Gutter Options
While steel gutters may be a good option for you, it's important to weigh all of your options in terms of gutters and downspouts. At Minnesota Leafless Gutters, we offer other materials, aside from steel including:
Aluminum Gutters – These gutters typically last up to 15 years or more and come in a variety of styles and colors. They can be dented more easily than heavier metals like steel or copper.
Copper Gutters – Copper is an incredibly resilient material that can last over 50 years. Copper gutters do not need to be painted, but are much more expensive than steel or aluminum gutters and downspouts.
Need Some Help Choosing the Right Gutters?
If you still have questions about what type of seamless gutters and downspouts to choose, feel free to call Minnesota Leafless Gutters at 612-221-0362 for some guidance.