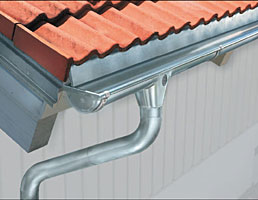 Minnesota Leafless Gutters has made a name for itself as a Minnesota gutter installation company by providing homeowners in the Twin Cities area with seamless gutter systems, the perfect leafless gutter solution. With an extensive background in gutter installation and a wide selection of styles, materials, and colors, we offer homeowners of the St. Paul and Minneapolis, Minnesota, area any gutter system they feel is right for their home. Because we believe in installing quality gutter systems, we also believe in using the highest quality materials, including galvanized steel and stainless steel for longer-lasting, durable gutters. If you're looking for a strong gutter system that won't collect leaves and debris, look to our leafless steel gutter systems.
Benefits of Steel Gutters
Unlike other materials, such as aluminum and vinyl, steel is an extremely strong and durable material. It can withstand harsh weather that other materials simply aren't made to encounter, and that's why, at Minnesota Leafless Gutters, we refuse to sell vinyl gutter systems that will break, dent, and leak following harsh storms, strong winds, and inevitable hail storms. Steel gutters, however, are a perfect choice for any Minnesota homeowner because of their durability. Steel will stay strong in rough storms, keep its coloring if maintained, and last for years. On average, galvanized steel gutters, the cheaper steel gutter option, last about 15 years as long as they're well-maintained. However, stainless steel gutters can last much longer, as they're even more weather resistant than galvanized steel.
Disadvantages of Steel Gutters
Steel, like most materials, will not hold up indefinitely against weathering and wear. Although steel gutters are one of the most durable gutter systems available, they're not the cheapest, and you should know the disadvantages as well as the advantages of steel gutter systems. With steel, galvanized steel in particular, proper gutter maintenance is crucial to keeping your gutters in good working order and helping them last as long as possible. Your gutters will have to withstand storms and weathering that could corrode them prematurely if they're not clean and looked after. Luckily, our seamless gutters increase the ease of water flow, and if you choose to invest in our gutter guards, you can protect your steel gutters from rust, corrosion, and leakage more easily.
Eliminate Gutter Cleaning with Leafless Steel Gutters
At Minnesota Leafless Gutters, we want to be sure that when you invest in a steel gutter system from us, it's in proper working order and lasts as long as possible. With our seamless gutter systems, we ensure that water, debris, and leaves drain easily out of your gutter system without creating blockages. When blockages do occur in gutter systems, it's usually caused by a buildup of debris in corners and welded sections of gutters, but with seamless steel gutters and gutter guards, you can ensure that your gutters stay clean, and you can keep your steel gutters from rusting because of debris buildup and water damage. Contact us today at mnleaflessgutters@gmail.com, or call us at (612) 221-0362 to find out more about our leafless steel gutters.