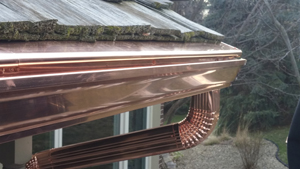 In order to determine the best options for gutters in your home, there are some important questions to consider. The most suitable gutter choice depends on what your expectations or requirements are. At Minnesota Leafless Gutters, we've got the experience to help you make the right choice. So please enjoy this handy guide we've written to get you started in your gutter selection process.
Gutters with Weather and Cold Resistance in Mind
If you're looking for a gutter that will stand up to Minnesota winters for as long as possible, aluminum is the best choice. It's the material most resistant to damage from cold or weather conditions. Extremely lightweight and with the option of seamless gutters, aluminum gutters are easy to handle and install. Additionally, they will hold paint really well, so if you're looking to spruce up your house with new gutters that will last and require minimal maintenance, they're a great choice.
The downside with aluminum though, is that they don't have really strong structural integrity. This means they can dent easily, so you have to be careful with ladder placements or other activities that may put undue pressure on your gutters. There are different grades of aluminum, however, and primary aluminum gutters will hold up better in this regard than those made from secondary (recycled) aluminum.
Most Cost Effective Gutters
For those who want to replace their gutters at the lowest cost possible, consider vinyl gutters. Not only are the materials the most cost effective, but these gutters are designed to snap together for easy installation. This means you can install them initially or undertake replacements on your own or at a much lower cost of labor. Installation still needs a skilled hand though, as they can sag over time. Vinyl gutters are also reasonably weather resistant, but frequent freeze-thaw cycles will make them brittle. In addition, they're much less durable than seamless gutters.
Highly Durable Gutters
The toughest gutters that can stand up to more extreme events like falling tree branches, etc. are made from steel, copper or stainless steel. While steel and copper may rust or oxidize with time, stainless steel will keep its finish for decades. The trade-off is in the price, as stainless can carry a significant price tag compared to other materials. But for the homeowner who wants to install gutters and then never have to worry about replacing them again, it's far and away the best choice.
This guide should help you get started with your decision to replace your gutters, but there are even more questions at play when considering manufacturing options. At Minnesota Leafless Gutters, we have the experience to guide you through this process and find the best gutter solutions for your home. Give us a call today to get started!