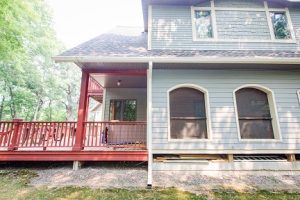 You probably haven't spent a lot of time thinking about gutters, as Minneapolis only received 4-5" of rainfall each month during the summer months. They're just one of those features on homes that are seen so often, you never consider them. But there are many different types of rain gutters. The material and the design make a big difference when it comes to choosing the right rain gutters for your home.
The type of rain gutters you have makes all the difference when it comes to maintenance. There are lots of different types of gutter systems for a home:
● Half-round gutters: The simple design doesn't detract from the home and work well to capture rainwater, routing it away from your home. Because of the open design, however, leaves and sticks can easily clog these gutters (installing leaf guards can solve this problem).
● K-style gutters: K-style rain gutters are named because they look something like the letter K when you view them from the side. Because these types of rain gutters are made with a flat back, they can be installed without brackets. They also have a very attractive, decorative look to them that can add to the beauty of your home.
● Fully customized: Custom gutters are also available. Usually, custom gutters are made of aluminum because this material is very easy to work with and it's commonly used in all types of rain gutters.
Different Materials Used In Constructing Gutters
Most types of rain gutters are made with lightweight metal such as aluminum, zinc, steel, and coppers. Some gutters are also made from vinyl.
● Aluminum Gutters: Aluminum doesn't rust, it's lightweight, can be painted any color, and typically last for 25 years. The problem with aluminum gutters is that they can be dented or bent due to storm damage and other trauma.
● Vinyl Gutters: Vinyl is easy to work with, can be painted, and is an excellent choice for homes near bodies of water as they're not affected by salt air. However, vinyl is not very temperature tolerant, becoming brittle and cracking.
● Zinc Gutters: Zinc is resistant to weather, corrosion, and warping, and can last about 50 years. However, these gutters are more expensive than some of your other options.
● Steel Gutters: Steel is very strong, weather-resistant, and lasts about 10-15 years, but it's heavy and it can rust.
● Copper Gutters: Copper roof gutters don't rust, don't require painting, and can be expected to last 100 years.
Seamless Gutters For Every Budget
At Minnesota Leafless Gutters, we are committed to protecting your Minneapolis home the best way we know how, which is through our highly effective seamless gutter systems. If you are in the market for a new gutter system, let our experienced team provide you a free gutter installation estimate. We're confident that you'll find our prices to be competitive, so give us a call at (612) 221-0362 or email mnleaflessgutters@gmail.com to learn more today.