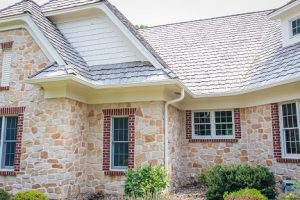 When you hire a company to do work on your home, what do you look for? For many, the three most important factors are price, service and quality of work. The truth is, however, when you hire a company to be on your property performing a service that you cannot complete, the most important factor to consider may actually be trust. Can you trust the company to give you a fair price? Can you trust the customer to provide you with the service you deserve and do the job correctly? Unfortunately, you cannot always trust companies not to take advantage of you in at least one of those areas. This is exactly what has inspired us to stand out in the Twin Cities as a gutter installation company that you can trust. We do not take this lightly and work hard each and every day to earn the trust of our customers.
Seamless Gutter Installation In St Paul
Minnesota Seamless Gutters installs leafless gutter systems that can correct and prevent any potential water issues that you are having on the exterior of your home. Our gutters systems come with a lifetime transferable warranty on both labor and materials, so it is an excellent investment in your home, whether you decide to stay for many years or sell. Rather than spending time every few months climbing up to clean out your gutters so that water can flow through, our leafless gutter systems never allow dirt and leaves inside in the first place, so they are virtually maintenance free. In addition, we can customize the gutters to fit your home perfectly and even match the color to the exterior of your home as well.
Benefits To Installing Seamless Gutters
There are many benefits of adding seamless gutters to your home. They will protect your home's roof, siding and foundation from costly water damage, save you time and money on maintenance and will add value to your home. We offer the highest quality materials for these gutters including aluminum, copper or even steel. That means that your new gutter system will last for much longer than a standard grade gutter system. Our staff is experienced and skilled in gutter installation and will provide you with professional service, affordable pricing and high-quality work. This is exactly how we have built trust in our community – among our customers. For more information about our gutter installation services, call us at 612-221-0362.