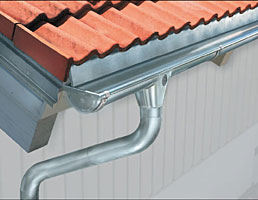 Gutters often collect water in their troughs, leaving them susceptible to water damage in the form of rust. Unfortunately, in areas prone to extreme precipitation, aluminum drainage systems can become compromised within just a few years after installation – making it wise to invest in galvanized metals for added longevity.
Steel gutters are renowned for their durability and strength, available in either stainless or galvanized varieties. While stainless steel gutters never rust and retain their shine for years, the high cost often puts them out of reach for many homeowners.
What Is "Galvanized" Steel: Galvanized steel is coated with a thin layer of zinc, strengthening it and making it resistant to rust. As galvanized steel gutters are more popular than stainless steel ones, let us examine some of their advantages and drawbacks:
PROS:
● Lifespan of 15-20 Years
● Resistance to rust
● Outperforms Aluminum in terms of resistance against damage and thermal warping
● Customizable on-site into seamless gutters that fit perfectly on your home
Cons:
● Zinc protective layer will eventually wear away, making the gutters vulnerable to rusting
● It's difficult to tell if there has been damage so without routine inspections, rust could go undetected for an extended period of time
● Heavier metal makes installation more complex
Why Install Galvanized Steel Gutters?
Galvanized gutters offer several advantages over their painted counterparts, including improved water and weather resistance as well as physical damage protection. Their unique mill finishes complement both contemporary and modern style homes alike, while adding a beautiful rustic touch to barns or farmhouses. With these advantages in mind, many homeowners opt for galvanized steel gutters as their preferred material due to their inert nature that doesn't corrode over time.
Are you concerned about how well your existing gutters will fare when snow and ice hit Woodbury and St. Paul, MN areas? It may be time for you to contact the experts. At Minnesota Leafless Gutters, our team of steel gutter installers is eager to offer affordable yet long-lasting steel gutter options for your home. For a free estimate today, give us a call at (612) 221-0362 or email mnleaflessgutters@gmail.com.