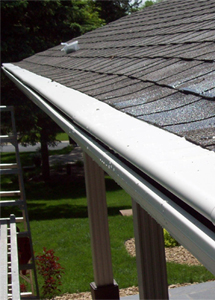 Looking to install leafless gutters? Consider adding gutter guards for several reasons. Gutter guards are essential for keeping your gutters in optimal condition. Their value cannot be overstated, and here are a few reasons why installing gutter guards makes sense:
Gutter guards prevent clogs: Gutter guards are essential for avoiding clogs and buildup in gutters. Blockages caused by leaves, twigs and rocks in your gutter can lead to water infiltration or overflow resulting in property and home damage if not addressed promptly. Gutter guards ensure rain does not enter your gutter system and prevent this damage from occurring.
Less upkeep: Gutter cleaning should only be done annually when they're unprotected, but with a guard you can put off this chore for several years instead of every few months – this way your gutter will hold more debris and last longer.
Long-term savings: Even though you'll have to invest more money upfront for a gutter guard, you'll also save on cleaning and repairs over time. In time, you'll recoup all your initial expenditure. Furthermore, many brands provide warranties which should cover all associated costs, making this investment secure for you financially.
Lower fire hazard: Although we may not live in an area prone to bushfires, fires still happen around our backyards and homes. Fires spread quickly when embers fly out after a fire, leaving leaves, twigs and other items caught on fire in gutters. A gutter guard will prevent this from happening and help save time and effort during times of emergency.
Gutter guards keep critters away: While standing water may exist in your gutters, spiders, mice, and bugs often take advantage of it as a perfect breeding ground. Gutter guards help prevent this by keeping the water moving – no pests if there's no stagnant water present.
Enhances curb appeal and increases home value: Gutter guards not only protect your gutters, but they can add value to your home. These advantages make your house more appealing if you ever decide to sell it. Gutter guards can be tailored to match the siding and roof of your house for a seamless look.
Reduces accident risk: Your home will be safer if your gutters are clear of debris. To reduce the risk of falling, it's best to do it yourself; that way, you're on the ground level instead of up on top. With clear gutters, you can rest easy knowing that everything is in its proper place – on the ground instead of on top!
Request An Estimate From Gutter Guard Specialists Today
Our seamless gutter systems can be tailored to fit any home or building and come with a satisfaction guarantee. No more climbing up ladders to clean leaves and debris off your property – our leafless gutters look beautiful while protecting it from water damage. Choose from any color to match the rest of your exterior! Call (612) 221-0362 today to arrange for a complimentary estimate!