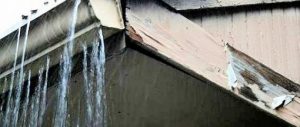 Gutters are one of the most important parts of your home. You likely rarely think about your gutters unless they begin causing you problems. Damaged gutters can cause major problems to your home including foundation damage, soffit and fascia damage, erosion and much more. If you're wondering why are my gutters leaking, feel free to reach out to Minnesota Leafless Gutters for a free estimate.
Reasons Why Your Gutters Could Be Leaking
Below are just a few reasons why your gutters may be leaking:
• Clogged – The most common reason for leaky gutters is because they're clogged. As the leaves begin to fall each Autumn, leaves are quick to become lodged in your gutters and if they're not regularly cleaned out, you could find yourself with a bad situation. Be sure to clean your gutters several times each year to ensure they're functioning correctly.
• Broken Seams – For years gutters were installed in sections. While this method of installation was easy, it meant that there were seams at each section, which caused problems over time. These seams can fail over time and lead to leaking gutters. Thankfully at Minnesota Leafless Gutters, we only use seamless gutters which have no seams and thus are much less likely to develop leaks.
• Improperly Sized Gutters – Many homes in the Minnesota area have improperly sized gutters. This can cause major problems to the structure of your home if your gutters aren't functioning properly. If you suspect that your gutters aren't sized properly, feel free to reach out to Minnesota Leafless Gutters and we'll take a look at your gutters to determine if they're properly sized for the size of your home.
• Improper Installation – Gutters must be installed properly to ensure water flows off your roof into your gutters and away from your home. If your gutters aren't installed properly, they can begin to leak. Water can get behind the gutters and cause your soffit and fascia to begin to rot and ultimately lead to mold and mildew which is bad news for any home!
Reach Out to Minnesota Leafless Gutters for a Free Gutter Estimate
If you're concerned why your gutters may be leaking, it's best to call the gutter repair professionals at Minnesota Leafless Gutters as soon as possible. We can come out to give you a free estimate to determine if your gutters can be repaired or if they need to be replaced. We offer a wide variety of gutter replacement options based on the style of your home as well as your budget. Give us a call today at (612) 221-0362 to schedule a time for one of our team members to visit your home.