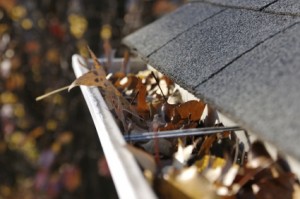 So far this late summer and early fall season has been very rainy with bouts of heavy downpours. Having a high quality seamless gutter system installed is a great way to protect your home or business from unnecessary water damage. As the leaves begin to turn color and drop onto your roof you may notice that your gutters are getting clogged up with debris. Having professionally installed, custom gutter covers can make fall cleanup much easier and safer. Minnesota Leafless Gutters provides effective, affordable gutter toppers that can be custom fit to new or existing rain gutters in most cases. With all of the benefits that come with gutter covers from a trusted gutter specialist, the question may be; why wouldn't you want to install gutter covers?
Benefits of Professionally Installed Gutter Covers
Prevent Gutter Clogs – Gutters are far less likely to become clogged up with leaves, sticks, debris or those little helicopter things. A clogged gutter is more prone to having pools of water that can attract and breed mosquitos. Little trees can sprout and grow in debris filled gutters.
Easy Maintenance – Nobody wants to clean out gutters with all of the mess and hazards of climbing up on a ladder. Gutter toppers from Minnesota Leafless Gutters are designed to allow leaves and debris to run right off the top while rainwater is allowed to drain into the attached gutters. Less leaves and debris means less gutter cleaning.
Safety & Expense – Gutter cleaning accidents are very common this time of the year. The risks associated with climbing up on a ladder and rooftop to clean leaves and debris out of plugged up gutters and downspouts are too high. The cost of hiring someone to clean them out year after year can be quite expensive.
Extend Lifetime of Gutters – If your existing gutters usually end up with pooled water and sloppy, wet debris, they could end up with premature rusting. High quality gutter covers provide a helmet to protect the gutters from conditions that promote rust formation.
Protection from Ice Dams – Minnesota residents are far too familiar with the freeze/thaw cycle that creates pot holes and ice dams. Ice can build up on roofs and gutters. As the ice melts under a bright sunny sky, the water needs somewhere to go or it will re-freeze again when the temperatures drop. Sturdy gutter covers guard against blockages that prevent water from draining away from the roof and home.
Increased Property Value – Investing in a custom gutter protection system can increase your property value. Homebuyers are often attracted to the easy maintenance and protection provided by high quality, professionally installed gutter cover systems.
Custom Colors – Gutter cover systems from Minnesota Leafless Gutters are available in a wide range of colors to compliment new, seamless gutters or existing rain gutters and downspouts.
Value – Minnesota Leafless Gutters installs only high quality, protective, seamless gutter covers that are made of top grade materials. Our gutter covers are made of sturdy, long lasting materials and are custom fit to your home. Just like our amazing seamless gutters, our gutter cover systems are guaranteed!
Gutter Cover System Installation Specialists Minneapolis
Why would you trust the gutters on your home or commercial building to anyone other than Minnesota Leafless Gutters? As gutter system installation specialists, we know gutter protection better than anyone you can find. If you choose to install gutter covers don't settle for anything less than the best.
Contact Minnesota Leafless Gutters at: 612-221-0362