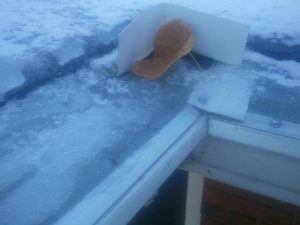 Temperatures may still be above freezing most nights and the summer months have just ended, but it will not be long before we have to turn our attention to the cold and snowy months of winter. Minnesota is known for those winter months, and we have learned through the years how to prepare for the cold, wind, snow and ice that will soon be on our doorstep. The exterior of our homes takes a serious beating each and every winter and it is important to act now to prepare your home for this winter weather. In addition to installing high quality seamless gutter systems that will funnel all water away from your home, our team at Minnesota Leafless Gutters can also remove snow and ice from your roof and help remove any ice dams that form before they cause costly damage.
Importance Of A Functional Gutter System
Your gutter system is critical to preventing water damage from occurring inside your home as well as outside around your foundation. Water damage is extremely stressful, disruptive and costly. If water causes problems for your home's foundation you can be looking at thousands of dollars of damage. A gutter analysis this fall can tell you if your current gutter system is working well or it may be time for an upgrade before the winter months. Minnesota Leafless Gutters offers our clients a free comprehensive gutter analysis and recommendations for a new gutter system if that is needed. Our seamless gutters are maintenance free and do not allow dirt and debris to create a clog that keeps water from being able to enter. With a functional gutter system, the water can flow through the gutters easily, away from your home's roof and foundation.
Snow Removal And Ice Dam Services
In addition to gutter repair and replacement, we can also help you with rooftop snow removal and ice dam prevention and removal services during the winter months. An ice dam is formed when snow melts on your roof and then refreezes. Over time, an ice dam can form and the weight of it can cause serious damage. Now is a great time to get your home ready for the upcoming winter and partnering with Minnesota Leafless Gutters is an affordable way to make these necessary preparations. Investing in your home right now will prevent future problems and expenses down the road. For more information about our seamless gutter systems or snow removal and ice dam services, give us a call at 612-221-0362.