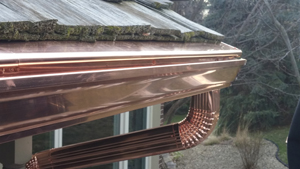 Minnesota Leafless Gutters of St. Paul installs seamless gutters for residents in Woodbury and many other local Minnesota communities. We can upgrade your gutter system and the quality of our work on your home will be unmatched. The seamless gutters we install offer a greater guarantee of protecting your home from the extremes that Minnesota weather is known for. In addition, our maintenance free seamless gutters surpass contractor-grade gutter systems (those that are installed by contractors because they meet minimum standards) and will prevent water problems around your home.
Protect Your Home From Water Damage
It is almost impossible for seamless gutters to become blocked by snow, ice, leaves, pine needles, or branches. By preventing debris from building up in your gutters, our leafless gutters prevent leaks from developing. Our gutters do this by allowing the surface area of the gutters to move water away from your house. When they are unencumbered by debris, even the heaviest rains will not overwhelm them. But with conventional gutters, debris prevents water and melting ice from moving, and the build-up can force it under shingles and into your home.
Contractor Grade Gutters Will Fail
Contractor-grade gutters work well for contractors, but we believe that you and your home deserve better. If your house is equipped with contractor-grade gutters, you are more likely to experience a failure of that system at some point. Rainwater and snow can accumulate, and wind and low temperatures that freeze the precipitation can force shingles to become misshapen, which can allow the accumulated liquid in your gutters to enter your home. But our leafless gutters prevent this from happening.
Seamless, Leafless Quality Gutter Company Woodbury, MN
In addition to increased functionality, our leafless gutters are also aesthetically pleasing. A gutter system should not detract from the appearance of your home, and our system is designed to be low-profile and actually enhance the beauty of your home. Most gutter systems are tacked on to houses with little or no real effort to enhance the look of your home. Our gutters, however, add to your home's beauty and its value. They also match form with function by preventing your house from suffering the worst effects of rain, snow, and wind. Because seamless gutters prevent debris from clogging the gutters and downspouts, water and snow can't accumulate like they do with conventional gutters.
Experienced Gutter System Installation, Woodbury
We know that you want your house to experience minimal need for repairs. Gutter systems are essential to minimizing weather damage to your home, and our seamless gutters are the best on the market. Our staff at Minnesota Leafless Gutters can help you feel a greater sense of security in the long-term safety of your home, especially as seasonal weather intensifies. We are LEAD-certified (# NAT-120701-1) and licensed (# BC646801) in Minnesota, and we work hard to earn your trust. Call us today at 612-221-0362 to schedule a time for a member of our crew to give you an estimate for a new leafless gutter system.