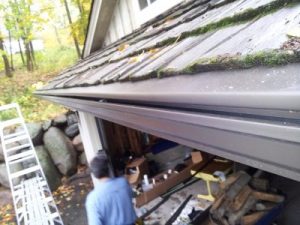 Industry-standard gutters may be adequate for average weather. If you have settled for the contractor-grade gutters that came with your house, you may find that they will allow water to get in between the edge of the house's roof and the gutters. Water, snow, and wind in Minnesota can force distortion of the shingles on your roof, which compromises the integrity of your roof, which can, in turn, cause leaks and damage inside your home. Minnesota Leafless Gutters of St. Paul can prevent this damage to your home with the installation of our seamless gutters.
Benefits of Seamless Gutters
Seamless gutters provide a higher guarantee of protecting your house from the ravages of Minnesota weather than conventional gutter systems, virtually guaranteeing that your gutters will not become stopped up by leaves, pine needles, branches, or snow and ice. And because leafless gutters do such a good job of keeping debris out of them, your home will be that much less likely to develop leaks. Our team installs seamless gutters for residents of St. Paul and many other communities in Minnesota.
Most homeowners do not think about their gutters until those gutters fail. Seamless gutters are far less likely to fail because of the way they are constructed. The design of seamless gutters is simple and will complement your home's appearance, almost disappearing into the exterior. They are designed to follow the shapes and angles of your home and come in the primary or accent colors of your home. We offer both K-style and half-round seamless gutters for your home and our crew can help determine which system will work best for your home. We will customize your gutter system to fit your home perfectly.
Protect Your Home with Seamless Gutters
No homeowner wants something that is primarily functional to take away from the appearance of the home. Most gutter systems are tacked on to houses with minimal effort made to match their house color. But seamless gutters blend in beautifully and stand up to artistic scrutiny too. But they also match form with function by preventing your house from suffering the worst effects of rain, snow, and wind. Because seamless gutters prevent debris from clogging the gutters and downspouts, water and snow cannot accumulate like they do with conventional gutters.
If you care about the long term stability of your home, you understand the potential damage that can be done by harsh weather. Minnesota Seamless Gutters can give you confidence that your house will be protected from Minnesota's harsh weather. On top of the great benefit of leafless gutters, the company is LEED-certified, which means the company is built on respect for the environment, which should be important to all of us.
If you are in need of an upgrade of your gutter system before the fall and winter months arrive, contact Minnesota Leafless Gutters at 612-221-0362.