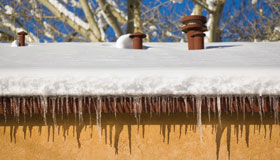 Minnesota is known for one thing more than any other – cold weather. The average low temperatures in the winter are between 0-15 degrees Fahrenheit and the average highs are between 19-30 degrees. That means that, for the vast majority of winter, temperatures remain well below freezing. So, it makes sense that the moisture that falls stays frozen and can remain on your roof or in your gutters for an extended period of time. This can cause significant problems for the exterior of your home. Minnesota Leafless Gutters can complete heated gutter installation so that you can protect your home from damage from the elements even during the winter.
Benefits of Heated Gutters
Heated gutters are not necessary all over the country but given that the temperatures in Minnesota stay low for so many months of the year, they can be a lifesaver for local homes and businesses. Heated gutters keep ice from forming inside your gutter which can clog it during the winter and cause problems on your roof and even around your foundation. Water damage is the last thing that you want to worry about around your home.
Heated gutters can also help prevent ice dams from ever forming on your roof which can be another big problem in Minnesota during the winter months. Ice dams form when water melts and then refreezes on your roof. Ice dams can build up during the winter months, becoming heavy and putting added pressure on your roof causing roof damage. Heated gutters are especially beneficial because they help warm the water that comes off of the roof keeping it from thawing and then refreezing again. Heated gutters are an added safety measure for your home.
Professional Gutter Installation Company in Minnesota
Minnesota Leafless Gutters specializes in all types of professional gutter installation, including one of our newest gutter types – heated gutters. Our team can come out and assess your home and make a recommendation for the best type of gutter for your property. We offer many different colors and all of our gutters are leafless meaning that you will never have to climb up on the ladder again to clean them out. We are currently open and conducting business with extra safeguards. We can complete an entire job without any contact, so that you and your family will be safe. For more information about our heated gutter options, call us at 612-221-0362 for a free consultation.