Seamless Rain Gutters Blaine MN
Now that spring is here and summer is on the way, what a great time to get the ball rolling on those home improvement projects you didn't get to last year. For some homeowners, this means it is once again time for good, old-fashioned gutter repairs to get done. Especially since it's National Home Improvement Month.
National Home Improvement Month 2013
National Home Improvement Month in May is the ideal time to put the spotlight on annual home improvement projects that should never be overlooked. For example, every year homeowners should be evaluating the condition of their gutters to make sure their gutters are unclogged and remain sloped for proper drainage. Plus, make sure the water running off the roof doesn't cause damage to your landscaping or property below the roof.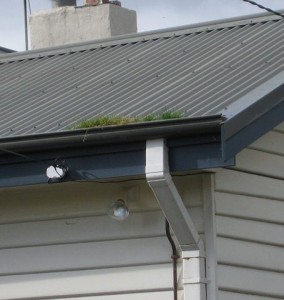 Because many people don't clean or maintain their gutters as often as they should, the leaves that have fallen from trees over the course of fall and winter often accumulate in the gutters, causing blockages and other big problems, like mold and algae growth.
Leaving leaves in gutters makes them unable to drain  properly and causes water to run over the top of the gutter. That can cause BIG problems over time if the problem isn't taken care of. After months or even weeks, leaks can damage your home's foundation and the extra weight can pull the gutters away from your home.
Any water that collects near your house will seep into the soil and eventually find its way into your basement. Water will always find a way.  Before you know it , you have a wet basement. Water Damage to basements are estimated at over $47,000 per incident! And foundation repairs are estimated at a minimum of $10,000 per incident. That's not chump change!
The most important and least costly home improvement you can make toward avoiding a wet basement is to correct the slope of the ground around your house to make sure water is draining away from the basement walls and to clean, fix, or add gutters and downspouts.
Maintaining Your Gutters
Properly maintained gutter systems last for years and add value to your home.  A Minnesota gutter contractor can help you to be sure that your gutters are maintained.
Keep Gutters Clean — Gutters should be inspected and cleaned every spring and fall.  If you have trees around your home, even if they are some distance away, you may need to clean your gutters more frequently.  Clogged gutters can become heavy and pull away from the roof.
Check Physical Integrity — Look for chipped paint, rust, holes, and other problems.  If you detect a problem call your gutter installer right away, so that it can be repaired before it gets out of hand.
Remember The Downspouts — Remember to check and maintain downspouts, too.  If they become clogged, your gutters will retain water instead of draining completely.  This is a breeding ground for mosquitoes and can accelerate gutter damage.
Here in Minnesota, rain gutters are an important part of your home's structure.  They might not be the prettiest part of your house, but they take care of sending all that water to the right place, instead of letting it drip and ruin landscaping and the sides of your home.  Seamless gutter systems mitigate water problems from the roof to the foundation by directing water away from your building.
Gutters in Minnesota are made from either rugged steel, affordable aluminum, or elegant copper.  Each material has its strengths and weaknesses.  We suggest paying a little bit more for quality gutters made from quality materials so that you do not have to replace them in five years.  If you get an experienced professional to install them you will not have to worry about them for twenty years or more.