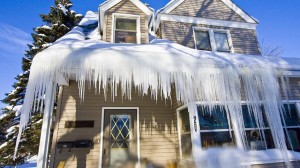 It's always a beautiful sight when the first sign of snow hits the MN area each year. The question, though, is whether or not your roof is ready? When snow falls from the sky, it is very light, but as it accumulates it can add thousands of pounds to your roof. So, if your roof is weak, heavy snow accumulation could end up causing serious damage to your home. The best way to prevent any roof damage from occurring is to hire a professional to handle your roof snow removal needs. That's where our team at Minnesota Leafless Gutters is here to help!
Roof Snow Removal: A Job Professionals
Dealing with heavy snow accumulation is a difficult job. First and foremost, being on a ladder when snow is around can be very dangerous. Our professional roof snow removal team has plenty of experience safely removing snow from roofs across MN. In fact, we've been keeping roofs free of snow for more than 18 years. Additionally, we have the proper equipment to ensure that this project goes smoothly. So, keep your ladder in storage and leave the roof snow removal process up to our professional team.
Maximize The Life Of Your Roof
You may not notice any damage to your roof immediately after a snowstorm, but over time, the extra weight that regularly builds up on your roof during the winter months can wear down your existing roof. In turn, you likely will not get to maximize the life of your roof. By letting our experts safely remove the snow from your roof after each snowstorm, there's a good chance that your existing roof will be around for quite some time. Not only can roof snow removal protect your roof, but it also can minimize the damage to your soffit, fascia and gutter system.
Free Roof Snow Removal Estimates
Interested in our professional roof snow removal services? Well, the next thing you'd like to know more about is likely the price. Our team is happy to offer a free roof snow removal estimate. Our prices depend on the size of your roof, but rest assured the prices we offer are extremely competitive and affordable.
Don't risk any damage to your roof the next time heavy snow hits the MN area. Instead, connect with our team at Minnesota Leafless Gutters and let us provide you with professional roof snow removal services. To request your free estimate, give us a call today at (612) 221-0362