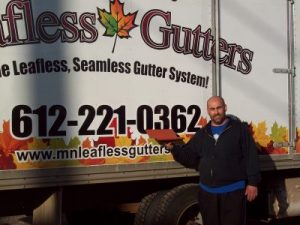 Living in the Twin Cities of Minnesota, it is critical that you have functioning gutters on your property. If not, the amount of rain, snow and ice that we receive throughout the year can do some serious damage to your residence over time. If you are concerned about your existing gutter system or are looking for new gutters on a new build, our team at Minnesota Leafless Gutters is the team for you.
Complimentary Gutter Estimates
With any project, the price tag is always one of the key factors in whether you decide to move forward with the home improvement project or not. That's why our reliable roofing professionals are proud to offer a complimentary gutter estimate at no cost. We'll come evaluate what exactly you need when it comes to your gutter system and will provide you with a detailed estimate that lays out all of the potential costs for your gutter replacement project. If you are not totally satisfied with our estimate, you can walk away from the project with no obligations. We're confident that after you see the details of our free estimate, you'll find our gutter costs to be very affordable.
Strong Durable Gutter Materials
No matter what type of gutter you are looking for, we've got you covered. Regardless of the decision that you make, our gutters are extremely strong and durable, which will ensure that they'll stay functional for many years to come. The three primary gutter materials that we use on our projects include the following:
Aluminum Gutters – A fan favorite for many of our clients because aluminum gutters are very affordable. While the price tag may be low, aluminum gutters can last 15 or more years and are available in a wide range of colors.
Copper Gutters – This type of material is more costly than aluminum or steel because it can last 50 years or more. It is extremely durable, long lasting and doesn't require any painting. This very low maintenance option doesn't rust and holds up well in MN weather.
Steel Gutters – If heavy snow and ice accumulation is something that you regularly deal with, steel gutters may be a great option because they can handle a very heavy load. This style gutter system can last at least 15 years as well.
When it comes to finding reliable gutter professionals in the Twin Cities, MN there's no better team to choose than Minnesota Leafless Gutters. To request a free gutter estimate, give us a call today at (612) 221-0362