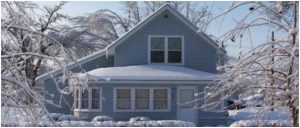 Yes, snow is all white and beautiful until your roof starts caving in and water starts dripping into your home. At Minnesota Leafless Gutters, we aren't trying to be grinches. We can appreciate the beauty of a good snow fall. However, our line of work makes it quite obvious that snow fall isn't always a good thing. When heavy snowfall hits, the excess weight on the roof can cause lots of problems down the road. At Minnesota Leafless Gutters, we are here to help. If snow is on your roof, let our experts safely and professionals remove it quickly.
Why is Snow OnTthe Roof Not Good?
While we all love that picture perfect snowfall, no one will enjoy their roof caving in. When most people think of snow, they see a white, fluffy, light and dreamy picture in their mind. However, snow is quite heavy. In general, one square foot of snow that's only one inch in depth will weigh approximately a pound. So, let's say your entire roof was covered with not one inch but twelve inches of snow! Depending on your roof size, that could be thousands of pounds of snow. Additionally, this does not include the possibility of an ice dam developing. As snow melts and refreezes, the edges of the roof can build what's called ice dams. One cubic foot of an ice dam may weigh approximately 57 pounds. Just one! While roofs are built well in Minnesota, no roof is expected to be able to withstand that much year after year.
Snow Removal Experts
No matter how skilled at ice skating you may be, trying to get onto your roof to remove the snow yourself is not a good idea. DIY roof snow removal can end in a disastrous, deadly moment that no one wants to see. Not only is it not safe, but it can also add weight to your existing, vulnerable roof. To avoid a collapsed, leaking roof, let our team of professionals help. With many years of roof snow removal under our belts, we take every safety precaution needed to keep both your roof and our professionals safe.
If you are looking for safe, reliable and efficient roof snow removal services in Minnesota, look no further than our professionals at Minnesota Leafless Gutters. For more information about our services, give us a call today at (612) 221-0362 or email mnleaflessgutters@gmail.com.