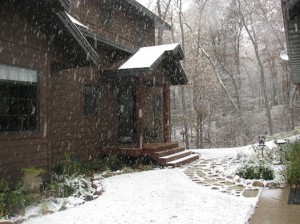 If you have been around Minneapolis, MN over the last few weeks, you have seen some signs that winter is quickly approaching. With winter comes brutal temperatures, icy conditions, and snow accumulation. There is no better place to stay warm and cozy during the winter time than within the walls of your own home! That is why it is very important to keep your home protected from the winter weather! Most importantly, keeping your roof free of snow and ice is a must! With the amount of snow accumulation Minnesota receives over the winter months, not removing the snow can do significant damage to your roof. No need to worry, let our experienced professionals at Minnesota Leafless Gutters handle your roof snow removal all winter long.
Risks of Snow and Ice on Your Roof
If you let wet snow sit out for long periods of time, it can become extremely heavy on your roof. Due to our frigid temperatures, when snow melts, it often turns to ice. Then, additional snow accumulation falls on top of the ice, causing the heavy weight on top of your roof. If not maintained and removed, this can cause leaks or even a collapsed roof. On average, a square foot of snow that is one inch deep weighs around a pound. So, for a region that experiences high snow accumulation, this can become very heavy. For instance, if twelve inches of snow fell, that very well could add thousands of pounds of pressure on your roof. Not only does snow accumulation affect your roof, so does ice! A cubic foot of ice weighs around 57 pounds. Ice dams that form can bring extra stress to your roof as well.
A Professional Roof Snow Removal Job
We all know that dealing with outdoor work this time of year is tough, so focus on do it yourself projects inside your home. Another reason to leave it to us is because snow removal is a dangerous job! Let the professionals at Minnesota Leafless Gutters handle your roof snow removal this season. Serving the Minneapolis, MN area for over 18 years, call us today at (612) 221-0362 to set up a free snow removal estimate.