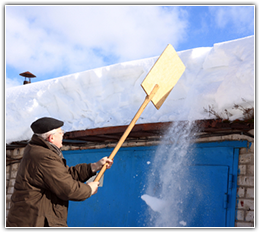 It's the MOST wonderful time of the year…sure! Tell that to the homeowner in Minnetonka, MN who has 3 feet of snow on top of his house! Living in Minnetonka, MN is a wonderful area. We experience hot, humid summers and lots of white winters! However, to have the best of both worlds comes at a price. Every winter, we get hit with heavy snowfall and long lasting snowstorms! During those months, homeowners are forced to deal with mother nature wreaking havoc onto their homes. Here's one of the best winter ideas yet: LET THE PROFESSIONALS HANDLE IT! If you have snow piling up onto your roof, it's time to call Minnesota Leafless Gutters for all of your roof snow removal needs!
Winter Storm Damage
We know that it's hard to imagine that the beautiful, white and fluffy snow that you ski on can cause major damage to your roof and home, but it does! Generally, one square foot of snow that is about 1" in depth weighs around a pound. Now, if you add the surface area of your roof and multiply it by the depth of your snow, you can have thousands of pounds of weight on top of your home! Once that weight piles on, ice dams can form, creating an even heavier stressor onto your roof. Honestly, at that point, it's only a matter of time until the roof decides to cave-in! Don't let that be you this winter! Prevent leaking and damage to your home and call us to remove the snow and keep your home looking beautiful and safe!
Professional Snow Roof Removal MN

Snow removal from you roof can be a dangerous job! Our professionals are experts in the snow removal field and we are able to fully assess any problems right away without causing any structural damage. We have provided our services throughout the state of Minnesota for over 18 years! We have the knowledge and equipment that help us provide excellent customer service each and every time!
So don't wait until the ice dams form and the roof starts leaking! If you live in Minnetonka, MN, call Minnesota Leafless Gutters today at 612.221.0362.