Residential Roof Snow Removal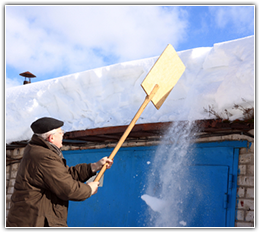 The snowy season has arrived early this year. Homeowners around Minnesota are already having to prepare for the possibility of roof, gutter and fascia damage due to heavy snow and ice. Dare I say Ice Dams?!?! The best and safest solution for Blaine, MN homeowners is to have Professional Roof Snow Removal completed by the experienced team at Minnesota Leafless Gutters. We have been providing residential roof snow removal services for more than 18 years.
Weight From Heavy Snow And Ice
The thought of all the extra weight of heavy snow on your roof is very nerve wracking. Heavy snow and ice can cause significant damage if left there to melt and possibly penetrate the walls of your home. Shoveling after a wet, heavy snowfall is quite difficult. You can imagine all of the extra weight that is sitting on top of your roof.
Damage Caused By Snow On The Roof
A roof that is left with heavy snow and ice for an extended period of time runs the risk of sustaining expensive damages. Dangers may include the following:
Ice Dams with water continuing to build up
Interior Water Damage to ceilings, walls and fixtures
Roof Collapse
Damage to Gutters, Downspouts and Fascia
Leaks or Cracks in Skylights
Injury from Falling Ice
Damage to Shingles and other Roofing Components
Dangers Of Improper Snow Removal
Just as leaving heavy snow on the roof can cause damages, improper removal of the snow and ice can also cause costly damage to occur. You need an experienced team do ensure that snow and ice are safely removed from the roof of your home.
Injury from Falling Off of roof
Damage to Shingles from shoveling or raking incorrectly
Roof Damage from putting salt or other substances onto the roof
Professional Roof Snow Removal
Minnesota Leafless Gutters provides Safe and Effective residential roof snow removal services. Our experienced team takes all the necessary precautions to prevent damage and to ensure safety. Blaine, MN homeowners can contact Minnesota Leafless Gutters for Professional Roof Snow Removal at affordable prices.
For a Free Estimate Call: 612-221-0362. OR Email: Tim@mnleaflessgutters.com