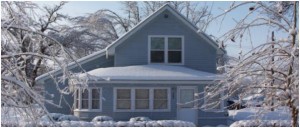 Although many of us do not want to accept it, winter is here. Just look outside, and you may see a few inches of snow already covering the ground. Is this a sign of a powerful winter ahead? We all know that this season of the year in Minnesota can be difficult. That is why it is so important for us to take care of our main line of protection, our homes. If you are in the Minneapolis, MN area, let Minnesota Leafless Gutters handle all of your roof snow removal needs! Our experienced and cautious team can tackle any job, big or small. We specialize in clearing commercial and residential roofs.
Importance of Ice or Snow Removal
Many people do not realize how heavy snow or ice accumulation can be. Typically, one square inch of snow that is one inch deep weighs nearly one pound. Year after year, Minnesota is one of the national leaders in snow accumulation. A foot of snow could amount to thousands of pounds on your roof, and that can cause serious damage! For those homeowners that leave the snow on your roof, ice dams may form. If not addressed, ice dams can weigh thousands of pounds, especially when high winds cause the weight on your roof to become uneven.
Professional Roof Snow Removal Minnesota
Snow removal is not a job that can be taken lightly. Without the proper equipment and experience, this can be an extremely dangerous job. The expense you will have to pay for professional roof snow removal is far less than the amount you would have to pay if you fell from your roof, the roof collapsed, or began to leak.
So tackle the Minnesota winter before it weighs you down! If you are in the Minneapolis, MN area, call Minnesota Leafless Gutters today at (612) 221-0362 to setup a free estimate for our professional roof snow removal services. We have been serving the Minnesota area for more than 18 years, so you can count on us to get the job done! Stay warm and dry inside while we keep your roof free of snow and ice.