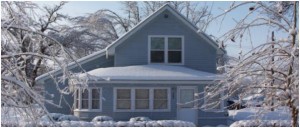 If you have spent any time in Woodbury, MN lately, you are sure to know that winter is here to stay for quite some time. As if it hasn't been long enough, the past 'groundhog report' only confirms our suspicions that we're not yet transitioning out of this snow-filled season. This area of the country can often times be mistaken for a winter wonderland this time of year. Sure, snow makes for a beautiful picture and keeps the outdoor brighter when the sun is scarce, however it can also be damaging to houses and buildings. Allowing snow to build up on your roof can cause substantial damage to your home. It is important that you get rid of the snow accumulated on your roof quickly. Team up with a reliable, local company that specializes in roof snow removal. Let Minnesota Leafless Gutters serve you and your home today!
Risk of Snow
Although it may not look like it, snow can become very heavy, especially if it is wet and has been sitting for a long time. Snow does eventually melt, but when the Minnesota temperatures are so cold, that snow turns into ice, adding more weight to your roof. If not maintained, heavy snow and ice accumulation can cause your roof to cave in or break. Applying the proper maintenance now will help the life of your roof!
Weight from Snow
Typically, one square foot of snow that is one inch deep weighs nearly a pound. In Minnesota it is not uncommon to get twelve inches of snow at a time during the winter, which amounts to thousands of added weight put on your roof. The roof of your home is what protects your entire house, so it is vital that the excess weight is removed from your roof quickly.
Leave it to the Snow Removal Professionals
Roof snow removal can be a very dangerous job. It is not one of those projects that you can do on your own without experience. Save those types of jobs for the summer months. Our team of experienced snow removal experts can get rid of the excess snow safely and in a quick manner.
Stay warm and cozy inside your home this winter. If you live in St. Paul, MN, give your roof a break and team up with Minnesota Leafless Gutters for all of your roof snow removal needs. Give us a call today at (612) 221-0362 to set up a free estimate.