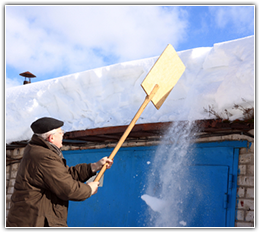 Living in Minnesota we are extremely familiar with the snow and cold temperatures. And although we are hardy people that can endure the cold, sometimes our homes and businesses need a little bit of help in the winter to help maintain them and keep them functioning.
Roof Snow Removal can be quite a task. Not only can it be dangerous to you, but it can also damage your roof or gutters if not done right or at all. When you work with Seamless Gutters we are here to provide St. Paul with great customer service and professional work. We will develop a snow and ice management plan that is tailored to your property. Every roof is different in as far as its tolerance for snow loads. Some can handle great volumes of snow, while others experience structural or ice-related problems after only a couple inches. Our goal is to only do as much shoveling as it takes to keep your home trouble-free during the winter. and allocate resources more efficiently.
Roof Snow Removal
Snow is a lot heavier than many people are aware. For one square foot of snow that is one inch in depth, it weighs one pound. So, in a big snowfall or if you allow the snow to accumulate over the winter you could easily have thousands of pounds of weight on your roof. When this happens it can cause structural damage and possibly even ice dams in your gutters which can cause even further damage. If you allow your roof to hold snow it could cause leaks and even roof cave ins.
Although we know Minnesotans are hardy, hardworking people, we also know the dangers of dealing with snowy roofs and therefore we would love to provide our customers with the customer service they deserve and keep them safe. Our crews are made up of professional, year-round gutter specialists that know how to safely work on roofs and ladders. We shovel aside snow that lands on walkways, driveways and steps. Our business is based on long-term client relationships, not burning through a bunch of jobs. You can always expect our people to be polite, professional and hardworking.
All of our services include a lifetime transferable warranty for labor and materials. Customers have been our most prized form of company advertising—one happy and satisfied customer telling another, telling another…. Creating that kind of customer is our number one goal. It means we do it right, the first time, every time. Your experience with us will be a positive one from start to finish, so give us a call today and allow us to help with your roof snow removal