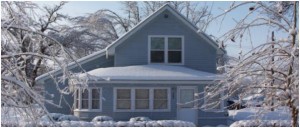 Minnesota winters sure are cold, but that is not the only thing we have to deal with living in this climate, but also snow, heavy snow. Although most of us living in Minnesota are used to the intense snowfall, sometimes there is unexpected damage that is done to your home during the winter months.
Snow and ice can be damaging to your home, and it seems like there is not a dull moment during the winter time between shoveling, salting walk ways and trying to keep too much snow off of your roof. But how often do you clear snow from your gutters? Snow, especially the snow that we get in Minnesota is wet and heavy, and if it is allowed to stay too long on your roof it can cause serious problems. When snow melts, it turns to ice, and when you are heating your house, oftentimes your roof will heat the ice, at night it will cool and turn to ice. This can cause leaks and even cause parts of the roof to collapse.
Snow quickly builds up, and is heavier than many people think, a square foot of snow that is only an inch deep weighs approximately a pound, and therefore the weight builds up quickly. If you are experiencing ice dam and snow build up, it is important to consider having your snow removed. Removing snow from your roof will resolve these issues, although this can seem like an easy fix, it is necessary to be extremely cautious because of the ice and snow on your roof. Also, many people damage their roofs trying to free it of ice and snow build up.
Why hire a professional?
Not only is snow and ice removal dangerous, but it can damage your property and is not worth the risk. Hiring a professional to remove the snow is definitely worth the cost, and outweighs any possible injury or damage to your home. Either way, it is important to address the problem immediately rather than wait until a major problem occurs, and leaving yourself with structural damage.
At Minnesota Leafless Gutters we will help you with your White Bear Lake MN snow removal. We are professionals in the industry and are willing to come out to residence around Minnesota. If you decide to have a professional remove the snow from your roof, please call us today at 612-221-0362 to assist you!