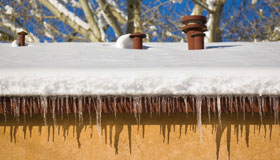 Everyone loves that wintery look–with snow covering the rooftops every way you look. Although it is eye-catching, too much snow on your roof is never a good thing and can be very dangerous. When snow starts to pile up it gets extremely heavy. In fact, a couple inches of snow can weigh hundreds of pounds and put tons of pressure on your St. Paul, MN roof. Adding ice into the mix makes things worse as well, as it adds additional weight to your roof. Too much weight on your roof can lead to leaks and even cause parts of the roof to collapse. Prevent that from happening with professional snow roof removal services.
Taking the Weight off your Roof
It is important to address the situation immediately before the stress of the weight causes too much damage. Minnesota Leafless Gutters is far more than just a gutter installation company, we are licensed roofing contractors and also specialize in removing snow off of local Minnesota roofs, safely. Along with removing this heavy weight from your home we will may even lay down a special product to prevent ice dams from building along your gutters.
Protecting from Ice Damage
Ice dams are another reason why you need to get the snow removed from your roof as soon as possible. Ice dams will actually start from the gutter and then build up the roof itself, and if your home is not properly protected, ice dams can seep underneath the shingles and allow moisture to build up under your roof, causing water leakage. And a big enough ice dam can crack, break and even tear your gutters right off the side of your home.
Stay Safe, Hire Roof Snow Removal Professionals
It is never a good idea for any homeowner to jump up onto their roof and try to shovel off the snow by themselves. Along with possibly inflicting unforeseen damage to their roof, many people have gotten extremely injured, or have been killed because they lost their balance or slipped off a roof. Hiring a professional to take care of your roof snow removal far outweighs the consequences of injury to both you and your property.
If you have snow on your roof that needs to be removed in St. Paul, MN contact Minnesota Leafless Gutters at 612-221-0362.