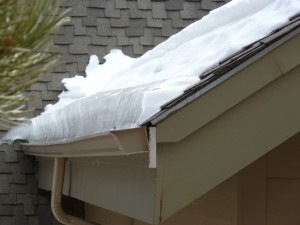 You may assume that fall is the most important time to pay attention to your gutters. After all, that is when the leaves fall off of the trees and can clog a standard grade gutter system. However, winter is another important time to pay attention to your gutters. Frozen precipitation can be a real problem for your roof and gutter system and can cause serious damage to your home if you are not careful. Minnesota Leafless Gutters can help you take care of your gutters all year round so that you do not have to worry about the consequences of a failing gutter system.
Importance Of Gutter Systems To Prevent Water Damage
When your standard gutter system gets filled with leaves, dirt and other debris, the gutters cannot do their job of allowing water to flow away from your home. Instead, when your gutters are clogged the water gets trapped inside or flows down your siding toward your foundation. When the weather turns cold and the rain turns to snow and ice, there can be additional problems with ice forming in and around your gutters and on your roof. Ice weighs much more than water and can cause serious damage if not removed quickly.
The team at Minnesota Leafless Gutters can install gutter systems that will work 12 months a year and will prevent ice dams. In addition, we can complete snow removal and ice dam removal as well to prevent the issues that water can cause in the winter months. When it is time to replace your standard gutter system, our contractors will provide information about our wide selection of seamless gutters, that are maintenance free and they do not allow anything but water to flow through.
Maintenance Free Gutter Systems In Minnesota
Minnesota Leafless Gutters do not require any cleaning, no ladders and no clogs. We work hard to make sure that our clients are fully satisfied with our work. We offer competitive pricing, high quality services and professional and clear communication. So, if you are concerned about your gutter system, do not wait for spring to have them checked out. Do not risk the water damage that can occur during the winter months if your gutters are clogged or not functioning as they should.
For more information about our gutter installation, snow removal or ice dam prevention (and removal) services, give our team a call at 612-221-0362. We are licensed and insured gutter and roofing contractors and would be happy to work with you.